Large bath with tile mural
to ease the fatigue of the journey.
Stretch your legs, soak up to your shoulders—a proper bath relieves the fatigue of the day and leaves you feeling refreshed.
HATAGO INN's nostalgic large bath decorated with a tile mural has the effect of warming both body and soul.

Bath open from 5 in the morning to midnight
Some guests prefer to bathe before heading to work, and others like to bathe after a long day of sightseeing.
Open from 5 in the morning to midnight, the sento-style bath caters to all hotel guests.
The large bath is exclusive to guests of HATAGO INN and can be used free of charge.
*A card key is needed to enter the bathing area.
*Guests are requested to bring the towels from their rooms.
Hours

15:00-24:00
5:00-10:00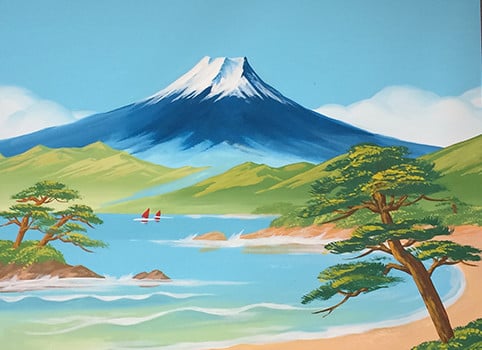 Healing effects of the nostalgic sento-style mural
All large baths at HATAGO INN are decorated with a nostalgic tile mural.
Take in the charm of the uniquely Japanese-style bath and enjoy a fantastically unwinding experience.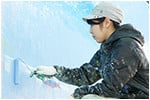 HATAGO INN's sento-style tile murals are the work of Mizuki Tanaka, one of only three bathhouse painters remaining in Japan. Also the only woman artist of her genre, Ms. Tanaka's work shows a distinct soft touch that comforts and heals the viewer.